Choosing a Dentist: What Should You Look For
What goes through your mind the moment you feel a tell-tale twinge of pain in your tooth? For some, a little tooth pain can quickly transform into an anxious spiral. Will it hurt? Will it be expensive? Do I even have the time?
There is a direct link between your oral health and your overall physical health. If you haven't had a cleaning in a while, it's time to consider choosing a dentist. It's possible to find a talented and compassionate professional who can turn your anxiety into comfort from the very first appointment.
If you're determined to have a great experience with your new dental practice, you will need to do some research. We've created this guide to help answer some of the biggest questions that new patients have when they're considering a family dental practice.
Read on to learn all about what to look for when choosing a Virginia Beach dentist.
What Qualities Should You Look for in a Dentist?
A great dentist is more than a cavity filling machine! Your dentist is a trusted resource who can help you look and feel your best, even in a stressful situation. The American Dental Education Association has identified several traits and qualities that make for the ideal dental professional. Consider your first consultation with a new dentist like an interview. Ask yourself if the dentist and staff exhibit the following qualities:
Concerned about your feelings
Excellent at communication
Knowledgeable about contemporary dental practices
Detail-oriented
Good at conversation
Makes you feel at ease
Trustworthy
Steady
These qualities make a major difference in your experience, as well as the quality of overall care. Most important of all, the dental practitioner should make you feel safe. When choosing a dental practice, you should trust your intuition, especially when choosing a family practice. You can consult with a few local professionals before choosing the dentist that is right for your family. When you meet the right one, you'll know!
What Questions Should You Ask Before Choosing a Dentist?
You will want to use your consultation wisely, which means you shouldn't be afraid to ask questions! Every prospective patient's priorities will vary, but these five questions should cover your most pressing concerns.
Do You Take My Dental Insurance?
If finances are part of your decision-making, this is one of the first questions you should ask. Your insurance company might cover two dental checkups per year. They might also assist with the cost of procedures like root canals. You are more likely to go to the dentist regularly if you can afford it, so don't move forward until you know for sure! Note that some practices offer payment plans using programs like Carecredit.
What Other Services Do You Offer?
Once you've formed a relationship with a dentist, it can be frustrating to have to shop around for a new one. It's a lot easier to stick with your own dentist when you need a specific procedure in the future. Try to find a dentist who can offer general, restorative, and cosmetic dental procedures in the same office. It makes a big difference when you can get a cavity filled at the same, comfortable office where you can get dental implants!
If you have kids, you might want to choose a family dentist who can treat family members of all ages! This can save you both time and money in the long run.
Finally, you might also want to ask about their approach to preventative dentistry. If they make preventing dental problems a priority, you can be confident that they have your best interests at heart! The best dental services are patient-centered and address overall health rather than just "fixing problems."
What Are Your Hours? 
We all lead busy lives, and you're more likely to go to the dentist if the office can accommodate your hectic schedule. Find out if they offer morning or evening hours. You can also ask about how the practice handles dental emergencies.
What Are Your Qualifications? 
Qualified dentists do more than graduate from the best dental schools. Find out if your dentist has pursued continuing education opportunities since graduating. This is the best way to learn whether they are up to date when it comes to the latest health care treatments and technology.
Can You Provide References?
This is particularly important if you've had a bad experience in the past. See if your dentist can direct you toward patient reviews, or even have you speak with another patient. Willingness to provide this information speaks to a level of confidence that's important in a great dentist!
Should You Consider Online Reviews When Considering a Dentist?
You should always consider online reviews, but remember to approach them critically. Take note of what the worst reviews are saying. At your consultation, feel free to ask questions if something seems suspect or contradictory. Likewise, notice what the best reviews highlight. Consider whether those things line up with your personal priorities. While reviews are a great tool, they are only one component of the decision-making process. If you're on the fence, always schedule a face-to-face consultation. That way you can meet the staff, see the office, and get your questions answered.
Why Should You Choose a Dentist That Is In-Network for Your Insurance?
An in-network dentist will always be more affordable. Often, the insurance company will cover your annual dental checkups. This way finances won't factor into dental health decisions, and you're more likely to make oral hygiene a priority!
Should You Ask For Referrals When Considering a Dentist?
Nobody knows a dentist better than his or her patients! If an existing patient has referred you to a practice, that is a great sign! It means that they have confidence in that professional's work. Ask around and take note of which names and practices come up again and again. You might become the next happy patient referred by a friend!
Why You Should Ask What to Expect at Your Appointment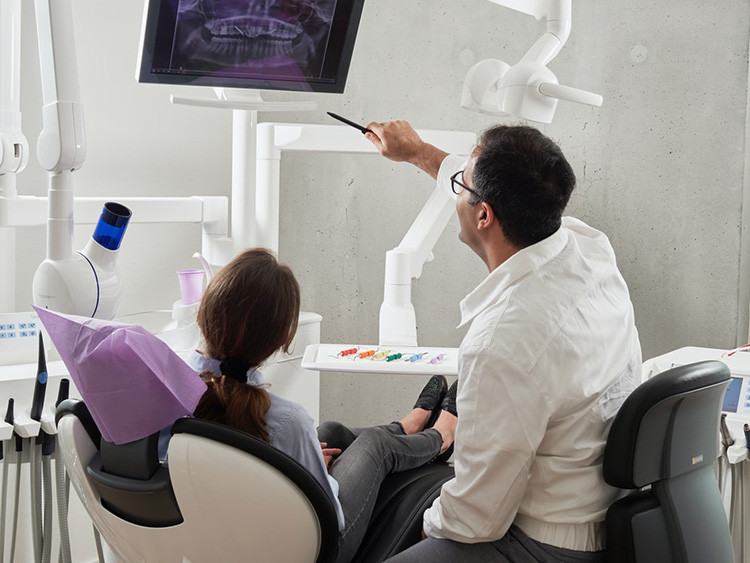 Dental care looks different in every office, and knowing what to expect can go a long way toward reducing anxiety. Your dentist should be able to tell you how long the average appointment will take. This can make it much easier to schedule an appointment during a busy week. You might also want to know what to expect for financial reasons. For example, how often does your dentist take x-rays, and are they always covered by insurance? Can you opt-out of any procedures that your insurance may not cover? If you do experience anxiety, you can ask about options for pain relief or sedation. This can make a major difference for patients who have neglected their dental health in the past due to fear of pain or judgment.
Why You Should Ask About the Type of Technology They Use at the Practice
Think about the evolution of the x-ray. Today, you can receive a quick and painless x-ray of your entire mouth. The images will be clear and immediately accessible on digital screens. If there is a problem, you and your dentist will know about it before you even start your dental cleaning!
The latest technology makes procedures easier and more comfortable for the patients, too! You deserve the quickest and most painless treatment available, and the latest technology makes that possible.
Choosing a Virginia Beach Dentist Begins With Trust
Choosing a dentist for your family has many components, from the emotional to the financial. When it comes to your health, every decision you make should begin with trust. Your family dentist will become a dependable partner who will go on to play a major role in your family's health journey. We invite you to come to our office and meet Dr. Mendrinos and Dr. Bredologos and see for yourself what makes our family practice different. Their compassionate practice will transform your understanding of what a great dentist can be. Contact us today to make your first appointment right here in the Hilltop area of Virginia Beach.