The path to a brighter, healthier smile isn't always an easy one. If you've been neglecting your dental health for several years, you may be dealing with cavities, gum disease, and crooked teeth. And while traditional braces can help correct alignment and spacing problems, they can also be an eyesore and a painful. Invisalign aligners are becoming the favored alternative to traditional treatments.
What Is Invisalign and How Is It Better Than Traditional Metal Braces?
Invisalign is a system of tooth correction that, in some ways, is similar to traditional metal braces. Both options can help fix a wide variety of orthodontal issues, including:
Crowding Problems
Pacing Problems
Crooked Teeth
Malocclusion
Traditional Metal Braces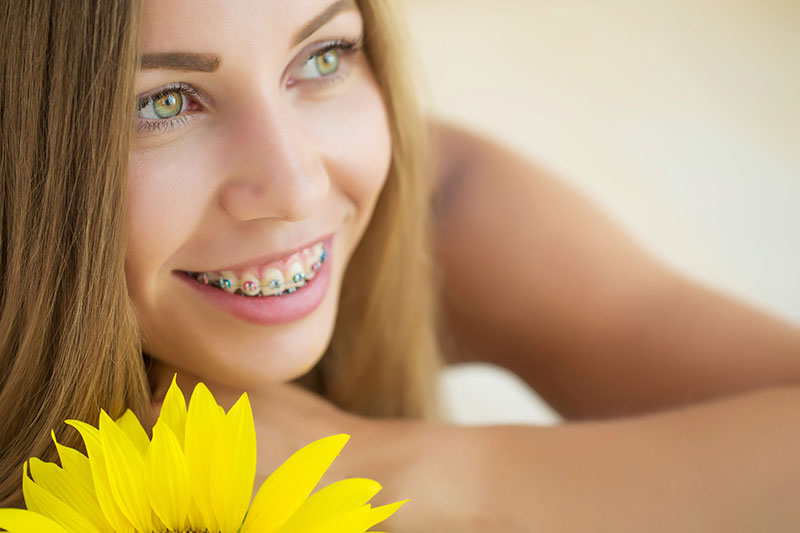 Traditional braces can be painful. When you get metal braces, your orthodontist cements metal brackets to the front surface of your teeth. They then slide a wire through each bracket, forming a single connected line. Your orthodontist may then use special pliers to tighten the wire or adjust pressure throughout the mouth. Over time, this wire pulls on your teeth to help guide them in the right direction.
It's not uncommon for those with metal braces to experience a wide range of issues. The metal brackets are known for causing injury to the inside of your cheeks and lips. Some wearers apply dental wax to their brackets each day. Food can also become an issue, particularly when it gets lodged between the wire and the teeth, or inside of a bracket. Left untreated, this food can expedite dental decay, resulting in cavities.
Invisalign Clear Aligners
Invisalign clear aligners look just like mouthguards or whitening trays. Each one is shaped to fit your unique dental structure. And while the first day with a new aligner can be a bit uncomfortable, Invisalign is generally pain-free. Unlike traditional braces, Invisalign aligners can be removed at will. If you're eating, you can remove your Invisalign device, and the same is true of brushing your teeth. However, users should wear them 22 hours per day.
Although you could opt for clear brackets when getting braces, nothing beats the transparency of Invisalign. These are truly the most aesthetically pleasing option for adults with crooked teeth or crowding problems. Invisalign aligners are easy to wear, less painful, and far more attractive than metal braces, however, they do have one major drawback: Time. You may end up wearing Invisalign aligners longer than you would metal braces.
These clear aligners straighten teeth, but they often do so one at a time. The total amount of time you'll wear them depends on your treatment plan. Additionally, you'll need to wear a retainer after Invisalign treatment.
What Are Crowding Problems?
Do your teeth seem to bunch together, almost as if they were in a rush to get to the same place? If so, you may be experiencing crowding problems. This issue occurs when multiple teeth attempt to inhabit the same space. Crowding problems are relatively common among children. The issue arises when those crowded baby teeth fall out and are replaced by larger, permanent adult teeth.
Left untreated, this type of crowding can cause problems with eating and speech. It's always best to seek orthodontal treatments when handling tooth crowding problems. Otherwise, you may see extensive long-term damage. When teeth become too crowded for water or floss to move between them, tartar and bacteria can build up, causing decay. Effective teeth straightening treatments, such as Invisalign, can help.
What Are Pacing Problems?
Pacing problems refers to two significant dental issues:
Poor tooth eruption, and
Pacemaker interruption
Poor tooth eruption often occurs in children that use pacifiers. Their teeth may erupt slowly, or they might immediately begin to become crooked. Additionally, some adults might lose their last baby teeth at a late age. When this happens, the adult tooth that's pushing forward to replace the lost tooth can become misaligned. And while it's struggling to take its new space, the teeth around it can begin to turn and shift.
Pacemaker interruption is a more intense concern. Individuals with pacemakers will need to be cautious when seeking dental treatments. That's because some dental instruments can interfere with pacemakers. One of the most notable aspects of Invisalign aligners is that they contain zero metallic components. While metal braces can be conductive, potentially interacting with a pacemaker, Invisalign aligners are not.
No matter the type of pacing problems you're facing, there is an alternative to traditional braces that may work well for you!
What Are Crooked Teeth?
Crooked teeth are exactly what they sound like. They're teeth that have turned within the gum, causing them to appear crooked. Crooked teeth aren't perfectly aligned with the gum line. When this happens, chewing and speaking can be challenging. Additionally, your self-esteem and confidence can take a hit if you're not enjoying a healthy, bright smile. Unfortunately, sometimes crooked teeth are unavoidable. This issue can be caused by tooth crowding, but it's often the result of genetics. If your parents had crooked teeth, you might develop them as well.
What Is Malocclusion?
Malocclusion is just another way of saying 'misaligned teeth.' Anyone can have malocclusion, but individuals with oral fixations might be more likely to develop this condition. Chewing on pens and pencils or sucking on hard candy can cause your teeth to fall out of alignment. Additionally, impacted teeth (particularly wisdom teeth) can lead to malocclusion. But some folks are genetically predisposed.
Teeth misalignment can be challenging to diagnose if you're not an orthodontist or dentist. Some malocclusion is very slight and poses few dangers. However, extreme misalignment can be a cause for concern.
Fortunately, Invisalign aligners can help correct misalignment problems. Each aligner gently moves teeth, resulting in one of the easiest and most pain-free orthodontic treatments.
What Other Teeth Related Afflictions Can Be Corrected With Invisalign?
Invisalign is primarily used to help with crowding problems, crooked teeth, pacing problems, and malocclusion. But these aligners can also help reduce symptoms associated with temporomandibular joint dysfunction (TMJ). TMJ commonly stems from chronic bruxism, or teeth grinding. Unfortunately, many of us that grind our teeth do so while we sleep. This can make it challenging to put a stop to bruxism.
If you're wearing your Invisalign, the clear aligner helps protect your teeth from each other. It's nearly impossible to grind your teeth while wearing Invisalign clear braces! Additionally, Invisalign aligners may help correct underbite, overbite, and crossbite. Generally, it's a useful tool for correcting tooth alignment problems.
How Long Does It Take for Invisalign to Work or Be Effective?
Invisalign treatment times vary and can be either relatively short-term (six months) or long-term (several years). The precise amount of time you'd need to wear Invisalign aligners varies depending on your current condition. If you've only got some slight crookedness, you may be able to enjoy corrected teeth in as little as six months. But individuals with several crooked teeth or extreme gaps may require years of consistent treatment.
That said, Invisalign starts working as soon as you pop the aligner in your mouth. Unlike traditional braces, Invisalign aligners correct teeth one at a time. This feature reduces pain and pressure throughout the mouth. But it can also increase the total treatment time. If you're in a hurry to straighten your teeth, Invisalign might not be right for you. But if you're willing to wait and wear, you won't be disappointed by the results.
How Much Does Invisalign Cost and Does My Insurance Help With That?
The total cost of Invisalign varies from person to person. The amount of straightening required influences this cost.  For example, an individual that only needs a single tooth straightened may only require one or two aligners. This results in low total costs, especially when compared to traditional braces.
Still, the average price for Invisalign treatment varies between $3,000 and $5,000. Insurance may partially cover some of these costs, with some insurance companies covering up to $3,000. Be sure to check with your care provider or contact us about covered costs before starting your Invisalign treatment.
Things You Need to Know Before Choosing Invisalign
Before you choose Invisalign, there are a few crucial things you'll need to consider. Firstly, though Invisalign is far less noticeable than traditional braces, they can take several years to straighten all of your teeth. Secondly, Invisalign wearers that don't consistently wear their aligner might feel frustrated by the results. You'll need to keep your aligner on as often as possible to enjoy straight teeth.
Still, if you're interested in starting your Invisalign treatment, be sure to contact us today!