A beautiful smile is the greatest investment you can make for your appearance. Tooth Whitening is a contemporary process that dramatically brightens and enhances the color of your teeth. Dr. Bredologos & Dr. Mendrinos, through the technique of Tooth Whitening, aspire to create whiter brighter smiles. Whitening could give your teeth a new lease on life! This form of Cosmetic Dentistry revives and rejuvenates teeth, brightening the patient's smile and confidence!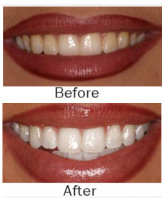 Tooth Whitening has today become the most popular form of Cosmetic Dental treatment. Giving instant and vibrant results, Tooth Whitening is a fast and effective way to makeover your smile! Tooth Whitening can reverse the effects of excessive coffee, tea, red wine, soft-drinks, and tobacco consumption.
At the office of Dr. Mendrinos & Dr. Bredologos, we offer two forms of treatment to our patients. During a consultation with Dr. Bredologos & Dr. Mendrinos, they will propose the best form of Tooth Whitening treatment for your needs. The doctors will monitor all aspects of your Tooth Whitening treatment and work with you, as a team, to attain the results you desire!
In-Office Treatment – Our in-office treatment creates stunning, vibrant results. Teeth may be lightened six to ten shades within the one session and sometimes even more! After the preparation of teeth and gums, the gel is applied to teeth and activated by a special light. One hour later, your teeth will be whiter!
At Home Gentle Whitening Treatment – If you wish to whiten your smile, however you suffer from sensitive teeth, our Gentle Whitening Treatment may be the solution for you! The unique formula is gentle on teeth, yet still highly effective in creating bright vibrant results. This method involves whitening for 1 hour per day at home for 2 weeks.
Wouldn't you like to find out what we could do for you?
Please Call our Office Today! (757) 425-1828