The Ultimate Guide to a Tooth Extraction
The first thing people see when you meet them is your smile! Your dentist's goal is to keep your smile looking amazing and your mouth healthy. A healthy mouth is the best way to have a great smile. Sometimes, the best thing you can do for your mouth is to undergo tooth extractions. People get teeth extracted at all ages for a variety of reasons. From tooth decay to wisdom teeth, tooth extractions are a standard dental procedure. No matter how common the procedure is, it can still feel overwhelming. Some reasons for getting teeth extracted are more severe than others. No matter the reason, tooth extraction is a necessary procedure that you shouldn't ignore.
Wisdom Teeth
Five million Americans get their wisdom teeth removed every year. It's one of the most common procedures patients go through, and it can happen at almost any age. Some people don't have them removed until well into adulthood, but many get them extracted as teenagers. Wisdom teeth need to be removed when they start emerging from your gums. This can cause crowding in your mouth and make your other teeth move around. Some wisdom teeth become impacted. Impacted wisdom teeth grow parallel to your jaw and never emerge above your gumline. But it can cause pain when chewing and damage to your other teeth.
You can have up to four wisdom teeth and you might need one or all of them removed.
Periodontal Disease and Tooth Decay
When gum inflammation and irritation get worse, it becomes gingivitis. When gingivitis starts to get worse, your gums can begin to pull away from your teeth, which is called periodontal disease. Periodontal disease can result in the bones of your teeth wearing down and your teeth being more vulnerable to cavities. If the bone loss is too extreme, you will need to undergo tooth extraction. Tooth decay can be caused by periodontal disease, but it can also result from bacterial infections that spread to the root or pulp of your tooth. This process begins as a cavity but worsens over time when left untreated. Decay can spread from one tooth to another. It also causes severe mouth pain.
Overcrowding and Trauma
The goal of braces is to straighten your teeth, but sometimes there isn't enough room to straighten things out. To make your teeth look and feel amazing, a tooth must be extracted. This extraction aims to make sure the teeth that stay have enough room to straighten out.
Accidents can happen. If a tooth gets cracked or damaged during an accident or event, it might need to be extracted. With teeth that are broken, extraction is usually a last resort.
Is Tooth Extraction Painful?
No, tooth extraction procedures are not painful. When you get a tooth taken out, your dentist wants to make the process as pain-free as possible. There are a lot of ways they can do this for you. For some procedures, your dentist needs to numb the area. When this area is numbed, you won't feel pain, but you might feel slight discomfort. Numbing the area is one of the ways to avoid pain while staying awake. Dentists will use a local anesthetic when numbing the extraction area. You should be open with your dentist about what will help you feel comfortable during the procedure.
More painful procedures will require general anesthesia. This will knock you out throughout the process, and you will feel nothing. Wisdom tooth removal, for example, is a more invasive procedure that requires you to be asleep.
Is There a Risk of Infection When Getting Tooth Extractions?
Yes, there is a risk of infection after getting a tooth extraction. Your tooth socket after surgery is an open area that needs to be taken care of. If you don't take care of it, bacteria can get into the area and create an infection. Bad breath, bitter taste, fever, pain, swelling, difficulty swallowing, or more bleeding than usual are signs of infection. After the procedure, your dentist will give you tools and a care routine to follow closely.
Will You Bleed a Lot from Tooth Extractions?
Depending on the procedure, yes. Some procedures are more invasive than others, which can cause more bleeding. Wisdom teeth are the best example of this. When you get your teeth removed, you must place gauze in the back of your mouth. This gauze becomes soaked with blood and needs to be replaced every few hours. Some more minor procedures may have a little bit of bleeding as well, but in general, bleeding should not last longer than 24 hours. If the bleeding lasts longer than 24 hours or feels excessive, you should call your dentist. It could be a sign that your surgical area is infected.
What Is the Recovery Procedure for a Tooth Extraction?
Depending on the procedure, recovery from a tooth extraction can take two days to a week or more. If you're able to, it's highly recommended to take a day or two off work to give yourself time to recover. Many dentists will give you a care procedure after tooth extraction. This includes rinsing out the socket to avoid dry socket, letting the space clot so it can heal faster, and avoiding certain foods.
Soft foods will be the easiest thing for you to eat. Cold foods will also be beneficial. You should avoid hot foods and some liquids because they could damage the healing areas. Pain medication is an absolute must for many people. You might not feel pain during the procedure, but you will most likely feel something afterwards when the anesthetic wears off. Some dentists will give you a prescription for more intense pain killers, but ibuprofen can usually get the job done. This will also help with reducing inflammation around the surgical site. If the pain is bad, ice packs can also help soothe it. Following your dentist's post-surgical procedure care recommendations perfectly is the best way to have the area heal and not get infected.
How Is a Simple Extraction Different from a Surgical Extraction?
Simple extractions are smaller procedures that can be done in your dentist's primary office and won't require lengthy recovery times. These surgeries are usually done with local anesthesia and are quick. Clear, visible teeth that can be extracted without surgery all fall under simple extractions. Surgical extractions are needed when the tooth you need to remove is under your gums or needs more in-depth removal. These procedures have longer recovery times because they are more invasive. This will happen at a specialty office that might be separate from your regular dentist's office.
Surgical extractions will also require a general anesthetic. The anesthetic will keep you asleep throughout the procedure and make it easier for the surgeon to do their job. Surgical extractions also require the surgeon to cut into your gums to remove the tooth.
What Health Conditions Should You Inform Your Dentist About Before the Procedure?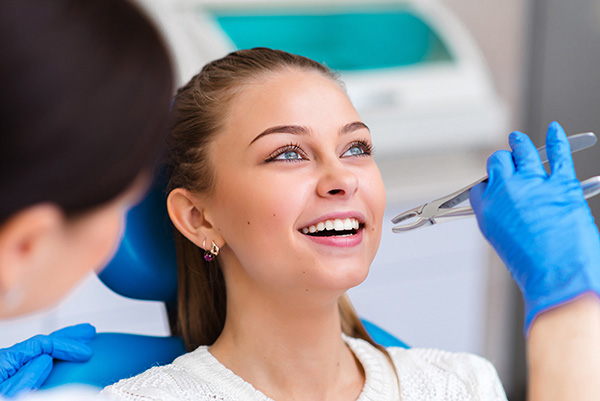 Before any surgery, your dentist needs to know about specific health conditions that could impact the overall surgery. People with diabetes will need to work with their doctor to regulate insulin and blood sugar levels before, during, and after the surgery.
If you're anemic, you know that blood loss is something to be concerned about. It would help if you let your dentist know so they can check your red blood cell count and help make a recovery plan to prevent any unnecessary blood loss. Your dentist might prescribe more intense painkillers after surgery. Let your dentist know if you have used many opioids, are susceptible to addiction, or don't want to use them. The dentist can work with you to find pain management options that don't involve opioids.
High blood pressure is another blood-related condition you should inform your doctor about. Your medication or blood pressure level could have an impact when you have the surgery. If you're a smoker, you want to avoid smoking at least a month before surgery and wait to start again until your mouth is fully healed. Smoking can slow the healing period and cause complications. Sleep apnea causes irregular breathing when sleeping. This is important for your dentist to be aware of, especially when using an anesthetic.
How Much Does a Tooth Extraction Cost?
Before getting the procedure done, you should get a quote from your dentist and talk to your insurance. The longer you put off dental care or surgery, the more the dentist may have to do and the more it will cost.
Schedule a Tooth Extraction with Us Today!
Dental extractions are safe, reliable procedures that are meant to help make your life easier. If you're experiencing pain in your mouth or have wisdom teeth coming in, you should contact a dentist about tooth extractions today. The Family and Cosmetic Dentistry team of Dr. Bredologos and Dr. Mendrinos can help you with anything, from a regular check-up to extractions. We want to help brighten your smile and live a better life. Reach out to us today to schedule an appointment!