Composite Resin and Beyond: Cosmetic Teeth Bonding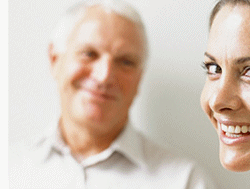 Do you struggle with tooth chipping or discoloration? If so, then you know what a toll this can take on your confidence. Dental issues can turn everyday activities and social events into a hassle.Maybe you've considered a dental procedure like tooth bonding in the past, but worries of numerous visits and painful procedures have kept you from taking this important step.
We at Family And Cosmetic Dentistry are ready to meet all your tooth bonding needs. As you may know, cosmetic bonding works by using a composite resin, which is a bonding material that covers minor tooth imperfections. 
What Is Cosmetic/Teeth Bonding?
Bonding is a cosmetic dental procedure to restore your smile. During this process, a bonding material is applied to your teeth. Your dentist shapes this material over damaged areas. As the material hardens, it covers any unsightly imperfections. This creates a uniform, long-lasting appearance. 
Cosmetic bonding is an excellent option for minor tooth damage. Unlike more expensive cosmetic procedures, teeth bonding is a simple process that requires minimal recovery time. This procedure is one of the easiest and least expensive in cosmetic dentistry. Most patients do not need anesthesia. Also, teeth bonding can be completed in a single visit. 
Why Do You Need Cosmetic/Teeth Bonding?
If you have some minor cosmetic damage to a natural tooth, teeth bonding might be right for you! Here are some common dental issues where teeth bonding can help: 
A small gap between two teeth

 

Visible silver fillings

 

Unsightly tooth color

 

Uneven tooth length

 

Chips on the tooth surface

 

Small tooth cracks

 
As you can see, bonding is a versatile procedure! Now that you know what issues bonding can address, let's look at the process in greater depth. 
What Happens During the Bonding Process?
First, we'll evaluate the color of your teeth. After that we'll then choose a composite resin that matches your natural tooth color. This gives the bonded tooth a smooth and natural appearance. The dentist will roughen the surface of the affected tooth or teeth. A special conditioning solution then prepares the teeth for bonding. 
After the teeth are ready, the dentist applies the composite resin. At first, the resin is easy to mold to the perfect shape for your teeth. We then sculpt the resin so it matches your other teeth. Once the shape is just right, the dentist will use a special light to harden the composite resin. This hardening process takes only a few seconds. After the resin is hardened, you're good to go! 
The entire bonding procedure could take anywhere from half an hour to an hour per tooth. This quick and painless process can instantly take your smile to the next level. 
What Are Some Disadvantages of Cosmetic Bonding?
Although bonded teeth look great, they are not as strong as your natural teeth. A bonded tooth has only 30% of the strength your natural teeth do. Crowns, fillings, and porcelain veneers are all stronger than bonded teeth. 
After you go through cosmetic bonding, you need to be careful with your bonded teeth. It is generally best to get bonding on teeth that don't do much chewing, like your front teeth. If you have molar teeth bonded, this could cause issues during heavy chewing. Our dentists will examine your mouth to make sure bonding is placed on the right teeth. 
Another disadvantage of this process is that resin is not stain resistant. It can go through discoloration over time. This is an important consideration if you smoke regularly or drink lots of acidic beverages. Unlike your natural teeth, composite resin resists teeth whitening chemicals. It's important to keep this in mind if you are planning to continue teeth whitening after cosmetic bonding. You may also experience some tooth sensitivity after your bonding procedure. This is normal and should resolve within a short time.  
Finally, cosmetic bonding is a difficult procedure. It requires artistic skill and patience. At our award-winning practice, you can rest assured that you are in expert hands. 
What Are Some Advantages of Cosmetic Bonding?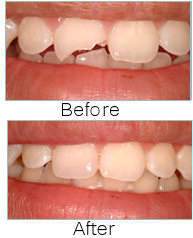 Teeth bonding is one of the fastest and least expensive cosmetic dental procedures. Applying crowns and porcelain veneers scrapes away more teeth enamel. Tooth enamel is important for protecting your teeth. This tissue forms a hard outer shell around each tooth. Scraping extra enamel can leave your teeth more vulnerable to damage in the long term. 
Crowns and veneers are also made in the laboratory. This process can take some time. Cosmetic bonding can be done in a single visit and does not require laboratory development. Since teeth bonding does not require anesthesia, the recovery time is also much faster. If you don't have time for a lengthy recovery, cosmetic bonding might be a great option for you! 
Finally, the initial process costs less than many other cosmetic procedures. The touch-up process is also quick and inexpensive. This makes for long-lasting results at a low cost to you. 
How Do You Take Care of Bonded Teeth?
Bonded teeth can stain and chip just like natural teeth. After your teeth bonding procedure, you should stay away from certain foods. Red wine, coffee, or tobacco products can lead to a lot of tooth discoloration. 
In general, you should avoid biting hard foods with your bonded teeth. It's a good idea to stay away from hard chips or sticky candies. Also, you should not use your teeth to open packages or tear food wrappers. This can result in damage to bonded teeth. 
It might be tempting to try and bite the wrapper off that granola bar, but bonded teeth simply can't handle it. Your dentist will help support you through the post-bonding learning process. After your cosmetic bonding procedure, you should continue brushing your teeth two times and flossing once per day. Keeping up your oral hygiene will help prevent serious damage to your bonded teeth. 
Of course, going for regular dental check-ups is even more important after any cosmetic procedure. Make sure to visit our dentists for an initial follow-up and for regular visits after that. When you come to the office, our dentists will check to confirm that your bonded teeth are still in top shape. Any touch-ups can be handled in a quick, painless visit. 
How Long Does Cosmetic Bonding Last?
The lifespan of your cosmetic bonding depends on proper care and maintenance. If you take good care of your teeth and practice good dental hygiene, you can extend how long the bonding procedure lasts. 
We can fix any potential damages as they occur. But dental bonding can last for up to ten years with excellent care. When you visit Family and Cosmetic Dentistry, Drs. Bredologos and Mendrinos will talk you through the entire process. From early steps to aftercare, we've got you covered! 
Making Composite Resin Work for You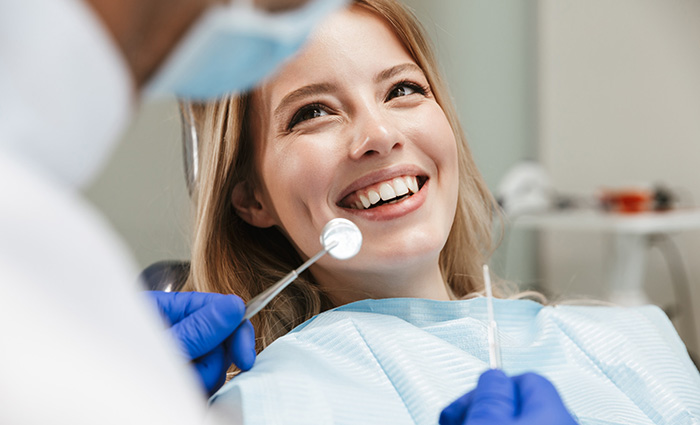 Our Family and Cosmetic Dentistry practice is designed to optimize patient care. As a family-owned and operated business, we know how important it is to put people first. Our practice is set up for every stage of your cosmetic bonding journey. During the early stages of the process, you will receive a detailed consultation about the procedure. 
We will then work with you to compare different options as well as pricing considerations. We know how important it is to find an option that works for your unique budget. We accept several different dental insurance options. We can work together to figure out the best financial arrangement for you and your loved ones. 
After your cosmetic bonding procedure, we will work with you to develop a follow-up plan. No matter where you are in the tooth bonding process, our practice is here to answer all your questions. 
Get in Touch With Your Best Smile
If you're interested in learning more about cosmetic bonding, get in touch! We will walk you through the process, from composite resin to follow-up care. Since your health is always our first priority, our office has taken every precaution against COVID-19. In addition to social distancing measures and PPE, we also feature a medical-grade air purifier in each treatment room. 
Contact us today to find out more about how we can help you achieve all your smile goals. We look forward to hearing from you!