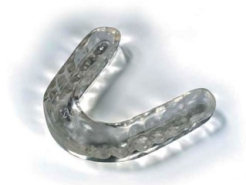 Do you suffer from headaches, jaw joint pain, or neck and shoulder pain? You may, without knowing it, be clenching and grinding your teeth as you sleep.
Teeth grinding and/or clenching causes extensive wear on your teeth, and can cause the facial muscles to overwork and becomes sore. Close to 20% of the adult population engage in this behavior as it is a common response to a stressful life.
Forceful biting when not chewing can cause the jaw to move out of alignment, creating more long-term problems. TMJ (temporomandibular joint) problems can occur, manifesting in pain in the joint, and/or pain up the side of the face or around to the back of the neck. A weak TMJ joint will make clicking and popping sounds when opening and closing the mouth. Headaches can be caused by a TMJ disorder. One out of 10 Americans suffer with frequest headaches. In the U.S. consumers spend over a half a billion dollars each year for medications to remedy headaches.
Wearing a night guard often lessens these problems. It is an oral appliance that is worn in your mouth as you sleep. It is used to move the jaw forward and/or hold the mouth open. In this way, a Night Guard correctly fitted by our team will keep you from snoring and grinding your teeth.
Call our office to schedule an appointment today. (757) 425 1828