Oral Appliances
Oral appliances that treat snoring and obstructive sleep apnea are small plastic devices that are worn in the mouth, similar to orthodontic retainers or sports mouth guards. These appliances help prevent the collapse of the tongue and soft tissues in the back of the throat, keeping the airway open during sleep and promoting adequate air intake. Oral appliances may be used alone or in combination with other means of treating OSA, including general health and weight management, surgery, or CPAP.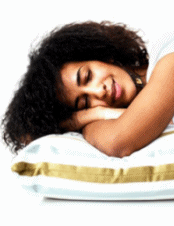 Oral appliance therapy is indicated for:
Patients with primary snoring or mild OSA who do not respond to, or are not appropriate candidates for treatment with behavioral measures such as weight loss or sleep-position change.
Patients with moderate to severe OSA should have an initial trial of nasal CPAP, due to greater effectiveness with the use of oral appliances.
Patients with moderate to severe OSA who are intolerant of or refuse treatment with nasal CPAP. Oral appliances are also indicated for patients who refuse treatment, or are not candidates for tonsillectomy and adenoidectomy, cranofacial operations, or tracheostomy.
Advantages of Oral Appliance Therapy
Oral Appliance Therapy has several advantages over other forms of therapy:
Oral appliances are comfortable and easy to wear. Most people find that it only takes a couple of weeks to become acclimated to wearing the appliance.
Oral appliances are small and convenient making them easy to carry when traveling.
Treatment with oral appliances is reversible and non-invasive.
Call our office to schedule an appointment today. (757) 425 1828