How Often Should You Go to the Dentist?
While it's recommended to go to the dentist frequently, most Americans aren't going for a check-up as often as they should. In fact, in one study conducted by the CDC it was found that, when polled, just over 65% of Americans had gone to the dentist in the last year. It's no secret that going to the dentist is important – but how often should you go to the dentist? Depending on your oral health history and habits, you may need to visit the dentist more or less frequently than the average person.
How Often Should You Go to the Dentist For A Check-up?
The answer may depend on your age, your oral health, and your dental habits. For most people, visiting the dentist every six months is a good rule of thumb. However, if you have poor oral hygiene or are at risk for dental problems, you may need to visit more often.
Likewise, if you have good oral hygiene and no history of dental problems, you may be able to get by with visits every twelve months. That being said, at-risk patients should visit the dentist more frequently. These are patients who are at a higher risk for developing dental problems, such as cavities or gum disease. They include:
Smokers
Diabetics
Pregnant women
Those with a history of dental problems
By visiting the dentist more often, at-risk patients can receive early treatment for any problems that develop. This can help to avoid more serious problems down the road that could affect their overall health. In addition, at-risk patients can learn about how to best care for their teeth and gums. This information can help them keep their mouths healthy and reduce their risk of developing dental problems. Ultimately, the best thing to do is to talk to your dentist about how often you should schedule appointments. They will be able to provide tailored advice based on your individual needs.
What Will the Dentist Look For During a Dental Check-Up?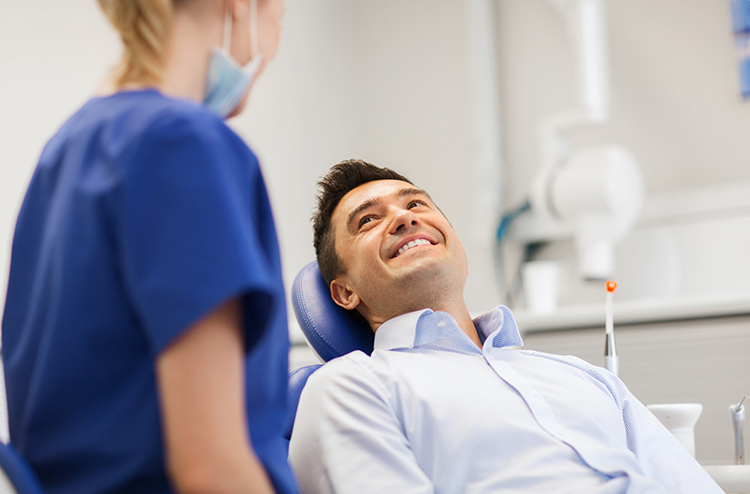 If it's been six months since you've visited the dentist then it's time for your next routine check-up. What can you expect during your visit? During a dental check-up, the dentist will look for signs of tooth decay, gum disease, and other oral health problems. They will also check your teeth and gums for any changes in color, shape, or size.
This routine check-up will likely be accompanied by questions such as:
How is your current dental hygiene routine?
Are you eating well?
Are you consuming alcohol or tobacco?
Have you had any pain or issues since your last visit?
The dentist may also take oral x-rays to check for any problems that cannot be seen with the naked eye. Typically this is done every other visit, so if you're visiting twice a year as recommended, these x-rays will only be taken about once a year.
If they find any areas of concern, they will discuss treatment options with you. In most cases, dental check-ups are quick and painless. However, if your dentist finds a more serious problem, they may refer you to a specialist for further treatment.
What Signs Indicate You Should Visit the Dentist Sooner Than a Standard Check-Up?
As mentioned above, visiting your dentist twice a year is usually fine for most people. However, there are times when you should visit the dentist sooner than that. Here are a few signs that indicate you need to visit the dentist sooner than your regularly scheduled check-up.
If you have persistent bad breath. This could be a sign of gum disease or an infection.
If you notice swelling, redness, or pain in your mouth. This could be a sign of an abscessed tooth or infection. If your gums are bleeding, especially when brushing or flossing. This could be a sign of gum disease. If you have loose teeth. This could be a sign of periodontal disease or injury. If you notice changes in your bite or experience jaw pain. This could be a sign of temporomandibular joint disorder (TMJ). If you have white spots on your teeth. This could be a sign of cavities. If you experience tooth sensitivity to hot or cold temperatures. This could be a sign of cavities or enamel erosion. If you experience any of these signs, it's important to visit the dentist as soon as possible so that they can diagnose and treat the problem. Ignoring these signs can lead to more serious dental problems down the road. We're here to help ensure small problems don't become big ones.
What Pain Levels or Tooth Sensitivity Levels Indicate You Should Visit the Dentist Sooner?
We mentioned tooth sensitivity and tooth pain above. However, how do you know that what you're experiencing warrants a call or visit to your dentist? Typically, if your teeth are sensitive to hot or cold temperatures, or if they hurt when you eat or drink something sugary, it's a good idea to have them examined by a dentist. Sensitivity can sometimes be caused by tooth decay or other damage, so it's important to get it checked out so that any necessary treatment can be provided. However, there are a few at-home assessments you can do to gauge your sensitivity levels.
The Tooth Tap Test
The tooth tap test is a simple way to gauge tooth sensitivity. To do the test, simply touch a tooth with your finger or a light blunt object and tap it lightly. With normal, healthy teeth you shouldn't feel pain or sensitivity to the touch or with light tapping. If you feel pain or discomfort, then you may have sensitive teeth that need to get checked out.
The Thermal Test
The thermal test is a tooth sensitivity test used to gauge how sensitive your teeth are to extreme temperatures. To perform this at-home assessment of your teeth, take a small piece of ice and place it on each tooth one by one. Typically, you shouldn't feel extreme pain or discomfort. If you notice that one tooth is especially sensitive to the cold then it could be a sign of inflamed or irritated tissue inside the tooth that needs to be looked at.
What Oral Hygiene Practices Prevent These Extra Visits?
If you're interested in caring for your teeth to prevent extra visits to the dentist then there are plenty of oral hygiene practices you can incorporate into your overall health routine that can help ensure your teeth and gums stay healthy. Maintaining good oral hygiene is important for preventing extra visits to the dentist. Some oral hygiene practices that can help include brushing twice a day, flossing daily, and using mouthwash. Brushing helps to remove plaque and food debris from the teeth, while flossing helps to remove plaque and food debris from between the teeth. Mouthwash can also help to remove plaque and food debris, as well as kill bacteria that cause bad breath.
In addition, it is important to avoid sugary drinks and foods, as well as tobacco products, as these can all contribute to oral health problems.  By following these oral hygiene practices, you can help prevent extra visits to the dentist.
Does An Appointment Outside of a Routine Visit Cost More?
This ultimately depends on your dentist.
If you have a dentist appointment outside of your regular check-up, it may cost more. This is because your dentist will have to spend more time on your teeth and may need to use special equipment. The total cost of your appointment will depend on the issues you're experiencing and what your dentist needs to do to help you resolve them.
While the appointment itself shouldn't cost much more than a regular visit, if they need to fill cavities, perform a root canal, or address another complex issue then you might find that the total cost of the visit will be a bit more.
Schedule Your Dental Appointment Today
So, how often should you go to the dentist? Ideally, you should schedule a routine check-up once every six months. If it's about time for your next dentist appointment and you're looking for highly-qualified, professional dentists in the Virginia Beach area then we invite you to come in and meet Dr. Mendrinos and Dr. Bredologos. At our family practice, we're passionate about helping you access the dental care you deserve. Click here to schedule your first appointment.